This week's
Spotlight on Author
is on
Jacqui Jacoby
and her latest release,
Bystander
. One kindle copy giveaway to one commenter!
Jacqui Jacoby on the web:
Who is Jacqui Jacoby?
Who am I? I am the writer of stories and the creator of worlds. I delve into places other people's minds don't go and I do it talking to myself, talking to walls and plotting out the next days stories while I fall asleep at night. "So if they ... then they would" is my favorite question. I love to be alone, have no problem with ten hours days at "work" as I really don't see a whole lot of it as work. I am happy in what I do and who I am. I am vain as a hobby--I think every woman should be. I have a ego that takes me into places others fear to trend ("Ms. Roberts, would you be available for an interview on Saturday at noon?"). I am not big on "human" friends as most of mine are imaginary or have grey fur.<g>
Who is your favorite author?
I have always loved Clive Cussler. Started reading him when I was fifteen. I haven't read one in awhile but I have met him several times and that was fairly awesome as it was he, through his work, who moved me toward action and suspense. The paranormal I added myself.
Do you listen to music while you write?
Yes. Generally bubblegum rock: Bay City Rollers, Shaun and David Cassidy. The Monkees. I also have a Kinks play list I find it very soothing and some Who when I want to mix it up. I am a die hard Who fan.
I do what I do the rest of the time. Writing is not merely a job to me. It's what I love to do. I generally work seven days a week, 6-10 hours days ... not because it's "work" about because it's what I love to do. I'm working with The Dead Men again and that is a great place to hang out.
Tell us about your book...
Bystander was a ride. I wrote the whole thing in just thirteen days in a rush of adrenaline that felt amazing. The story, the characters, they all took shape out of people and places I knew from the past. The image of a stalker was deeply dark to me and deviling into the research to make him bad, exciting. Picking the crew to slow him down equally as much.
Bystander is the story of Beth Hardwick, reader on the Snap Shots set in Hollywood, California. Just out of a bad relationship with Mile Criswell, she thought he would disappear and she could move on. Miles had serious other plans. It took the involvement of her boss, former spot light hot shot and current Snap Shot producer to step in and rescue her. Sean, world famous for his dating as well as his movies has two passions in his life: his son and his cats. And the way the cats boss him around, you would think they ruled the world.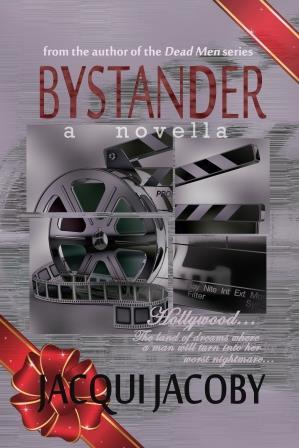 Enter Giveaway